Admission Policy
Students are accepted at St. Paul's Day School without regard to race, color, religious beliefs, or gender. Children are guaranteed a pre-school class for the following year. *Please note we cannot guarantee Kindergarten.
Private Tours – starting in December
Please call to arrange a tour by calling 908-233-5417 or emailing us at: StPaulsDay@StPaulsDay.org
Classes:
AM session 8:55am – 11:25am (2, 3, and 5 days a week)
Kindergarten starts at 8:50am
Mid-morn: 10:30 am-12:45pm (2 year-olds)
PM session: 12:20pm – 2:45pm (2, 3, and 5 days a week)
4 Year-Old (5 Full Days)
Junior Kindergarten: includes 5 AM sessions and 3 PM sessions
with the option of a 4th PM.
Kindergarten: 8:50am to 2:55pm
Below is the tuition schedule for the 2017-2018 school year.
Please note that ½ day pre-school tuition is based on 10 equal payments.
Full day 4 year-old programs, Junior Kindergarten and kindergarten is based on 11 equal payments:
The nonrefundable application fee is $65 for oldest child / $45 for each succeeding child
The 1st tuition payment is due at registration and is nonrefundable.
Tuition payment # 2 is due on May 1st for all classes – payment # 3 is due on August 1st.
The tuition payments are nonrefundable.
Seven additional payments are due for ½ day pre-school (eight for full day 4's, JK and kindergarten) on the first of each month beginning September 1st.
The 5% church member discount applies to pledging church members only and cannot be combined with other discounts.
The 4% second child discount applies to the younger member in the family.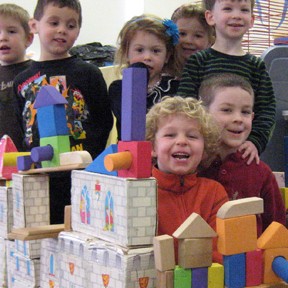 2 Sessions Per Week (2 and 3 year-olds) – $240 Per Payment ($2,400 per year)
---
3 Sessions Per Week (2 and 3 year-olds) – $310 Per Payment ($3,100 per year)
---
5 Sessions Per Week (3 and 4 year-olds) – $440 Per Payment ($4,400 per year)
Full Days with Enrichments – $763 Per Payment (8,393 per year)
---
4 Year-Old  (5 Full Days) – $726 Per Payment ($7986 per year)
---
Junior Kindergarten (5 Sessions Per Week) – $609 Per Payment ($6700 per year)
3 Extended Days – Mon., Tue. & Wed.) 8:40am to 2:30pm
Friday Extended – JK's S.T.E.M. Enrichment Class ($84 per payment)
---
Kindergarten – $773 Per Payment ($8,503 per year)
2 Sessions Per Week (2 and 3 year-olds) – $230 Per Payment
---
3 Sessions Per Week (2 and 3 year-olds) – $298 Per Payment
---
5 Sessions Per Week (3 and 4 year-olds) – $422 Per Payment
Full Days with Enrichments – $731 Per Payment
---
4 Year-Old (5 Full Days) – $697 Per Payment
---
Junior Kindergarten (5 Sessions Per Week) – $585 Per Payment
3 Extended Days – Mon., Tue. & Wed.) 8:40am to 2:30pm
Friday Extended – JK's S.T.E.M. Enrichment Class ($84 per payment)
---
Kindergarten – $742 Per Payment
2 Sessions Per Week (2 and 3 year-olds) – $228 Per Payment
---
3 Sessions Per Week (2 and 3 year-olds) – $294 Per Payment
---
5 Sessions Per Week (3 and 4 year-olds) – $418 Per Payment
Full Days with Enrichments – $725 Per Payment
---
4 Year-Old (5 Full Days) – $690 Per Payment
---
Junior Kindergarten (5 Sessions Per Week) – $579 Per Payment
3 Extended Days – Mon., Tue. & Wed.) 8:40am to 2:30pm
Friday Extended – JK's S.T.E.M. Enrichment Class ($84 per payment)
---
Kindergarten – $734 Per Payment