"Play gives children a chance to practice what
they are learning." ~ Fred Rogers (Mister Roger's Neighborhood)
Our Junior Kindergarten classroom always has room for a dramatic play corner. It is where the children can play productively and imaginatively, sometimes with hysterical laughter! This center can be a veterinarian's office or a gift- wrapping station. It can be a pizzeria or a T.V. station or a shoe store. Reading, writing, and arithmetic are incorporated into the pretend play. For example, the "veterinarians" fill out a health history form for each animal patient. They love making up ailments and cures.
The "Junior Kindergarten Television Station" is where the children dress up to report the latest NCAA March Madness scores or to forecast the weather. Last year, commercial breaks were popular – "And now a word from our sponsor…" They advertised everything from Play-Doh to Campbell's soup. The camera man/woman also acts as the director and is in charge of lighting. Other centers around the classroom are: the Writing Center desk, the Math Center, Listening Center, Blocks, Library, Computer, and Art Center (easel).
An interactive Word Wall at the Writing Center is always filled with fun word cards for the children to practice writing. A wide variety of materials is available for the children to make books; and to cut, stamp, hole-punch, stencil, glue, staple to their heart's content.
The children work with partners at the Math Center. Dice and card games are popular. These are alternated with graphing, counting, puzzles, and the "Estimation Station", where the kids estimate items in a jar.
At the Listening Center, children play a variety of games. Some focus on letter sounds, others on following directions. After listening to a book, the children can rate the story on a scale from 1-3.
Blocks are the very best toy in the world. Yes, they used every single block.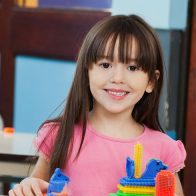 Halloween lends itself to all kinds of creepy, fun activities. One favorite each year is patterning with ingredients from a witch's brew. A giant cauldron is filled with eyeballs, skeletons, frogs, and other spooky things. The children pick a card and then follow the pattern. Some have a simple ABAB pattern, some are a more complicated AABCC pattern. No need for worksheets to teach this skill. Digging into that yucky stuff is much more fun.