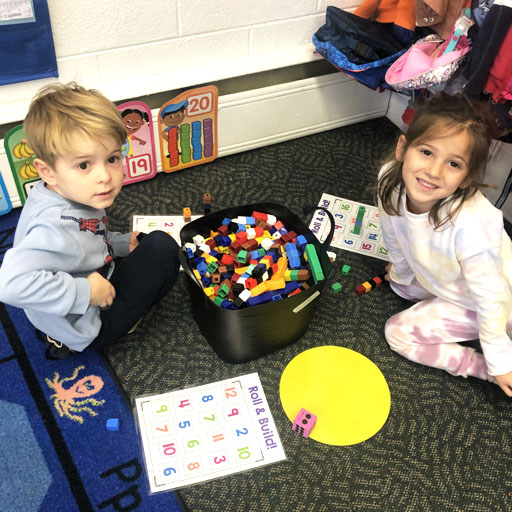 Full day Junior Kindergarten: Monday through Friday, 8:50am to 2:45pm
The St. Paul's Day School Junior Kindergarten (JK) program is a bridge between preschool and Kindergarten. JK is intended for children who turn 5 between July 1 and December 31. JK is a more structured day than preschool and a more relaxed day than Kindergarten. Everyone in JK is working on something – from letter identification to social skills – and the safe and loving environment emphasizes the feeling of success and strives to increase confidence. Enrollment in JK requires Director approval.
The literacy program in JK is multi-faceted and engaging because it is disguised in fun and play. Students are introduced to the Wilson Fundations program, a multi-sensory and systematic phonics program. They work hard to learn the Fundations letter cards in the treasure box so the pirate doesn't come and steal their gold coins! Each letter card has the letter, a keyword that begins with the letter, and letter sound with a corresponding gesture. The literacy program also includes daily read-alouds, guided reading groups, and writing workshops.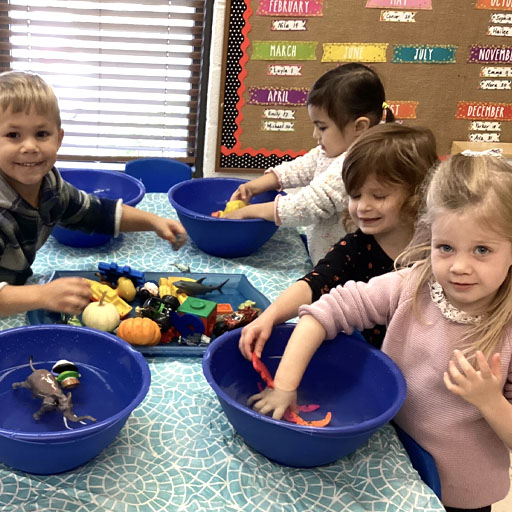 The math program is taught through the daily calendar routine, games, and hands-on activities. Every day children identify the month, day of the week, and year, and they do a movement to count the days (jump, arm raises, touch their toes), they tally the days, and put them on a ten frame. Students are immersed in math skills with activities like dice games, taking class surveys using their clipboards, making life-size bar graphs on the floor, measuring their classmates using Christmas bows, putting small dinosaur figures on ten frames, and many more fun activities.
Science is incorporated through engaging lessons like seasonal nature walks and STEM challenges. Some STEM challenges include building a bridge out of popsicle sticks and tape for the billy goat to cross, making a strong house for the pig out of candy and toothpicks, and hammering nails into a pumpkin to make a 3D geoboard. A highlight of JK is hatching real-life chicks as part of the oviparous animal unit. A Lego engineer visits the classroom to engage children in a large scale bridge-building activity. Fun, fun, fun!
The days in JK are also enriched by art, music, movement and Spanish classes as well as visits from parents. Parents and family members are welcomed on a weekly basis as "mystery readers." Every Friday the children get so excited to see who is waiting outside the classroom door to read them a favorite book. The look of surprise when it is their special person is priceless! 
Junior Kindergarten is a full day program giving time to play and explore! Children visit centers every day – dramatic play (lemonade stand, kitchen, elf gift-wrapping station, veterinary office, etc.), makerspace, blocks, writing, listening, art, and so many more. These centers help us achieve our ultimate goal of incorporating play into the reading, writing, math, and science curriculum because, as Mr. Rogers said, "play is really the work of childhood!"