Every day is a fun-filled learning adventure at St. Paul's Day School. The fun begins at "circle time" when the children anxiously await a new educational surprise. Perhaps the "mystery box" will provide a clue.Can an extra-large toothbrush hidden inside lend itself to "brushing" with puffy paint toothpaste? Maybe the mystery box will contain a play dinosaur. If it does, then maybe each child will enjoy creating a dinosaur puppet and give it a name like a Michael-a-saurus. Once a theme has been established, there are no limits to where their creativity might lead.
Stories, songs, and creative projects will help stimulate curious minds.
Science discoveries are an important part of the three year old class. How delighted the children become when they watch a tiny caterpillar grow and grow, spin a chrysalis and finally emerge as a beautiful butterfly. As we release the butterflies back into nature, we sing "Flitter, Flutter Butterfly" as we watch them fly away. It is a memorable experience for a three year old.
A day would not be complete without developing readiness skills. Counting and measuring ingredients for special snacks adds fun to math readiness. The children love to make tasty treats like Leprechaun pudding, snowman snacks, and caterpillar biscuits. Learning math through cooking projects is great fun and delicious too! Graphing our favorite apples, counting jewels for the treasure boxes or matching spiders to their number web all add to math development.
Reading readiness is displayed all around the classroom. Children can enjoy "fishing for letters" and identifying their sounds. How excited the youngsters are when they can read their names as the day's special helper. Big books, rhyming games using cookie cutter letters with play dough peak their interest. The students learn to identify sounds of letters through everyday activities which prepare them for future literacy success.
Within the classroom there are many opportunities for dramatic play. The dress- up corner lets imaginations grow. Some days there are many beautiful princesses. On other days there will be mail carriers delivering homemade letters or firefighters racing off to an emergency.
The block center provides endless opportunities for imaginative minds and at the same time a great developmental experience. Children love to gather around the sand table. As they sift through the tiny grains and discover "treasures" in the sand, they can't hide their excitement. They also use their fine motor skills to mold play dough into various shapes. Have you ever made play dough pizza?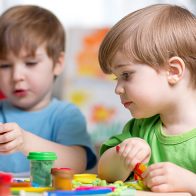 In our writing center, the children are stimulated to express themselves. Throughout the year, their creativity is continually stimulated through the use of crayons, stickers and other props. Many special keepsakes are created by the children and cherished by their parents.
No day would be complete without some time for running and playing. Has your child taken a ride on a dinosaur or driven a taxi or scaled a climbing wall? Our playground is filled with exciting adventures which provide the youngsters with exercise and fun. When the weather is inclement the children are delighted to crawl through a caterpillar or tackle an obstacle course. Bikes, scooters, balls and cars provide excellent development of their coordination and gross motor skills.
Each day is filled with excitement and adventure as the children develop their social skills and build a solid foundation for their future.