Half Day Two-and-a-Halfs: Morning session 8:50 to 11:15am. Offered 2, 3 or 5 days per week.
Two-and-a-Half Year Old Adventures at St. Paul's Day School is designed to give children their first learning experience in a school setting. St. Paul's strives to provide a warm and nurturing environment for two-year-olds during their most impressionable early years, where they can develop a sense of independence and autonomy as well as socialize and be supported emotionally with their peers. Each day we provide art, math, music, science, social, emotional and physical activities with an age appropriate curriculum. An expansive playground allows young children to explore and develop their gross motor skills. Our colorful, child-friendly classrooms are full of stimulating and language-rich toys, books, puzzles, art materials, manipulatives and musical instruments. We offer students everything needed for a successful and fun first exposure to school.
Our daily routine gives children the comfort and security they need to explore and grow! The teacher welcomes and then encourages the children to take off their own backpacks and jackets. Self-responsibility is reinforced through hanging up their belongings on their own hook. They then have a choice to use their imagination and have a tea party in the kitchen area, use blocks to build a city for dinosaurs, or dress-up to be a ballerina, doctor or firefighter! The students may also choose to sit at the table with bristle blocks, puzzles or playdough, thus developing and strengthening their fine motor skills. Kneading playdough at the table with their classmates not only develops a child's fine motor skills, but it can open up conversations between the teacher and children, too!
To qualify, children must turn 2.5 by the first day of school. Children who turn 2-years-old by October 1 but are not yet 2.5 by the first day of school can enroll in St. Paul's Church's Time for Twos program.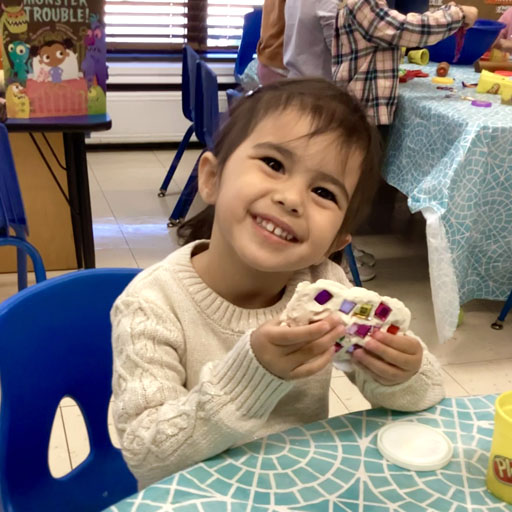 Shapes, colors, and nursery rhymes are introduced to the children throughout the year through crafts, art projects, songs and stories. Eric Carle, Laura Vaccaro Seeger and Leo Leonni are amongst many of the classic childrens'  authors we read to the children. Numbers are introduced at snack time when counting goldfish or crackers. Counting and sorting are early and age appropriate introductions to math. Daily transitions from room to room, from building to playground, from classroom to home, are eased by using seasonal songs and fingerplays. 
St. Paul's Two-and-a-Halfs class is committed to ensuring that your child meets his/her developmental milestones in the domains of gross and fine motor; social and emotional development and growth; and cognitive/language skills.